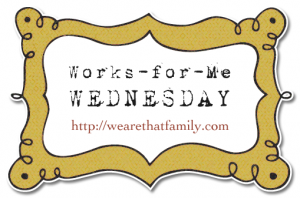 After grumbling to my husband about the number of able-bodied persons who mysteriously disappear right after supper, I decided it was time to re-implement our Table Chores. These are simple jobs that do not change. Each child knows what his chore is, and as long as I remember to issue the charge, "Table Chores!" they get done quickly. This is one area where the children really can be a big help. The five minutes that we take to clear up
together
easily saves me a half hour of work.
Ethan and I refrigerate the leftovers, transfer the dishes from the sink to the dishwasher, and sweep. I could delegate these chores to children as well, but I'm a little too picky about these tasks.
Table Chores. These really work for me!