(What is the verb for trying to show hospitality to a friend?)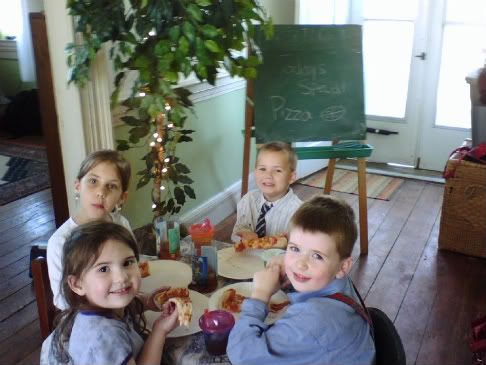 (our children enjoying hospitality with fun guests in a year now past)
Sunday we had quite a pleasant surprise. Ethan was not preaching; he had asked the former pastor to cover last Sunday as he prepares for ordination exams. As we sat together in the pew (a rare treat!!), he asked me if I recognized the man sitting behind us. I was not at church the week before (sick kids), and I just assumed it was one of the visitors Ethan had told me about.
"You don't recognize him?" he said. "From Vienna?"
Emboldened by the fact that it was someone I should know, I turned and looked at him full-faced. And then I DID know him -- an elder from one of our sister churches in Vienna, Virginia, a church where Ethan often preached night services.
It was wonderful, seeing this face from a state so far away yet never far from my thoughts.
We laughed incredulously at his being here for the week, away from family for a business trip. Last night we caught up with him over dinner, filling him in on matters here and probing away about matters there.
It was delightful. And supper? Supper was thrown together late in the day, a recent go-to meal for guests. I keep expecting the children to get tired of the menu, but they only clamor for more come meal-time.
Which, I guess, is why it is becoming a regular stand-by.
Iced Tea (sweetened, of course, and made with one bag of Tazo chai and 7 bags of decaf orange pekoe)
Chicken Teriyaki (recipe below)
Rice (our new favorite from Costco)
Some sort of veggie (last night it was corn; often it is glazed carrots)
Some sort of salad (last night it was various lettuces, feta cheese, walnuts, and chopped apple)
Blondies (recipe below) with coffee
Chicken Teriyaki (adapted from More with Less's "Chicken Wings Hawaiian"):
Combine in saucepan:
1 c. soy sauce
2 cloves garlic, crushed
1 c. finely chopped green onion (or 2 onions)
1/2 c. sugar
2 t. dry mustard
2 t. ground ginger
1/2 c. butter
1/2 c. water
Bring to boil and cool. Pour over 4 lbs. chicken (or salmon, or both, if you have not enough of either -- which is what I did last night). Marinate several hours (or don't, if you're short on time). For chicken, cook in a 350 degree oven without removing sauce. Bake uncovered 45 minutes, turning pieces after 30 min. For salmon, bake in a foil tent at 425 degrees for 15 minutes; then check.
I like to save the juices for pouring over the meat and rice . . . scrumptious.
This can also be done in the crockpot with good results.
Blondies (adapted from The Fannie Farmer Cookbook's "Butterscotch Brownies"):
Butter a 9x13 pan. Preheat the oven to 350 degrees.
Mix
1/2 c. melted butter, shortening, or vegetable oil
2 c. brown sugar
2 eggs
1/2 t. salt
1 1/2 c. flour (I use soft white wheat flour)
2 t. baking powder
1 t. vanilla
1 c. nuts, broken in pieces
a couple of handfuls of chocolate chips
Spread in the pan. Bake about 33 minutes (check at 30 minutes). Cut in squares or strips while warm (if you don't, you won't be able to get them out of the pan).
I guarantee you'll love this blondie recipe. It's easy, fast, and so yummy.
Let me know if you try these!