Kendra posted some "reality" pictures to encourage homeschooling moms that perfection is impossible in real life.
The problem is, her "imperfection" is closer to perfection than this house has ever seen! So I'm taking her up on her challenge to post pictures of real life at our house.
Here's breakfast (well, for two of them, anyway):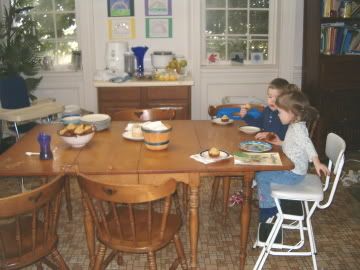 I am actually rather surprised at how little of the mess you can see in this. On the island ("peninsula"?) in the back is a vase that I removed the flowers from um... I think four days ago? and the Bosch blender that needs to be put away and the grocery bag that has the ribbons and facing for my next attempt at sewing, and that is a Valentine's curly ribbon under the chair next to Abraham...
But for some true standard-lowering: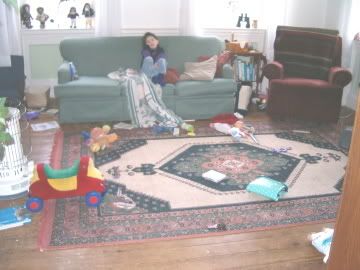 Feel better? I mean, look at this mess! Blankets, books, pillows, toys, changing pad, ribbons...I had a defense all planned out, but I mean, really. The point of this is that this is what my house really looks like.
And junk drawers? Those are for amateurs. We have a junk hallway. Just take a junk drawer, enlarge it by about 20,000 percent, and change the screws, cat clippers, post-it notes, and springs to coats, shoes, Sunday School papers (which I loathe), diaper bag (just waiting to be dis-assembled by some little fingers), and anything else that didn't quite make it to its final destination (including screws, cat clippers, post-it nots, and springs).